The greater Kalamazoo area was well represented and recognized at the largest gathering of real estate professionals in Michigan during the Michigan REALTORS® annual Convention October 5th-7th, 2016.
---
The Michigan REALTORS® annual Convention offers professional development, Continuing Education, and relationship building opportunities. Additionally, REALTORS® throughout the State are recognized for their service, leadership, and activism within the real estate community. Fourteen Members of the Greater Kalamazoo Association of REALTORS® (GKAR) attended the Convention this fall, and several were honored for their professional achievements.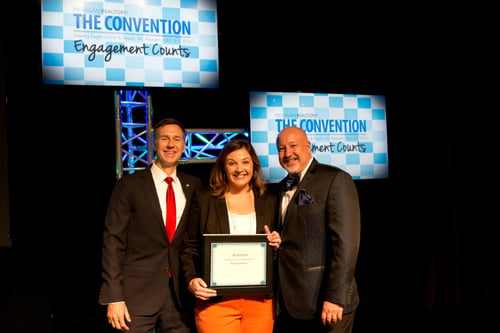 Michigan REALTORS® Convention: Rob Campau, Natalie Rowe, and Gary J. Reggish.
2016 GKAR President, Natalie Rowe, was elected to serve on Michigan REALTORS® Board of Directors as the Congressional District 6 Representative
. "
This is an exciting time for District 6; as Carl Kaminski sunsets his term as Director, I'm thrilled at the opportunity to . . . continue his longevity to the Association with a fresh perspective," says Rowe. Kaminski served as the District 6 Director
from 2007 thru 2010 and again from 2013 thru 2016.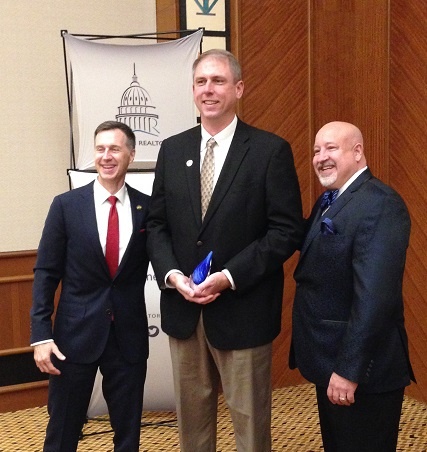 Michigan REALTORS® 2016 REALTOR® of the Year Recognition: Rob Campau, Lee Crossley, and Gary J. Reggish.
GKAR Member Lee Crossley was also recognized for his 2016 GKAR REALTOR® of the Year achievement, and was nominated for the state REALTOR® of the Year honor. Crossley has served on GKAR's Board of Directors as President-Elect in 2009 and President in 2010 as well as serving on several GKAR Committees throughout his career.
Michigan REALTORS® 2016 Leadership Academy Graduates: Ashley Dietch-Schaefer, Michelle Teitsma Sherriff, Debi Raymond, Nicole Bartolomucci, Karen Greenwood, Robbin Skokowski Barnes, Katie Weaver, Christopher Germain, Terry Frewen,Stephanie Jones Pytel, Greg Miller and Natalie Rowe.
Members Greg Miller, 2015 GKAR President, and Natalie Rowe, 2016 GKAR President, both graduated from Michigan REALTORS® inaugral Leadership Academy and were presented with certificates of completion during the Convention. The Leadership Academy identifies emerging REALTOR® leaders who demonstrate an energetic commitment to expand their knowledge and involvement in the real estate industry.
Also in attendance were GKAR Members Dennis Bronson, Suzzette Deaux, LuAnn DeFouw, AJ Harma, Dan Jaqua, Alan Jeffries, Steve Light, Carl Phalin, Jack Reed, and GKAR CEO Robin Pompey. "We are proud to have an actively engaged Membership, committed to representing the greater Kalamazoo area at state and national conventions, and to have so many Members who serve as leaders in the real estate industry," says Pompey.